So in our tiny little church ward here in Swan Valley, we've had 5 funerals since the time we moved here...
???
Anyway, at a
Mormon
Funeral, the
Relief Society
helps put on a luncheon after the funeral to feed the family most coming from out of town. So we send around a sign up sheet for salads, dessert and "Funeral Potatoes".(
I have been signing up for the potatoes because I have so many
!) They are a deliciously rich concoction of potatoes whether sliced, diced or shredded, cream of mushroom or chicken soups (or both!), sour cream and cheese, then usually topped with pulverized corn flakes. They are delicious, but when you live 30 minutes from the nearest grocery store and don't have sour cream on hand, there are other very delicious potato dishes that
are
allowed (lol) and depending on the time it takes you to open cans, maybe faster. ;)
I love potatoes au gratin--always have and even better if they are of the cheesy variety.
Here's a recipe found on the good ole internet that you might like if you want to venture out of the "funeral potato" rut or don't have any sour cream on hand.
Creamy Au Gratin Potatoes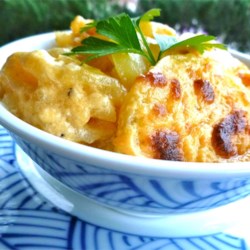 Original recipe makes 4 servings
4 russet potatoes, sliced into 1/4 inch slices
1 onion, sliced into rings
salt and pepper to taste
3 tablespoons butter
3 tablespoons all-purpose flour
1/2 teaspoon salt
2 cups milk
1 1/2 cups shredded Cheddar cheese
Directions
Preheat oven to 400 degrees F (200 degrees C). Butter a 1 quart casserole dish.
Layer 1/2 of the potatoes into bottom of the prepared casserole dish. Top with the onion slices, and add the remaining potatoes. Season with salt and pepper to taste.
In a medium-size saucepan, melt butter over medium heat. Mix in the flour and salt, and stir constantly with a whisk for one minute. Stir in milk. Cook until mixture has thickened. Stir in cheese all at once, and continue stirring until melted, about 30 to 60 seconds. Pour cheese over the potatoes, and cover the dish with aluminum foil.
Bake 1 1/2 hours in the preheated oven.
So try this recipe for some FUN potatoes today!!!